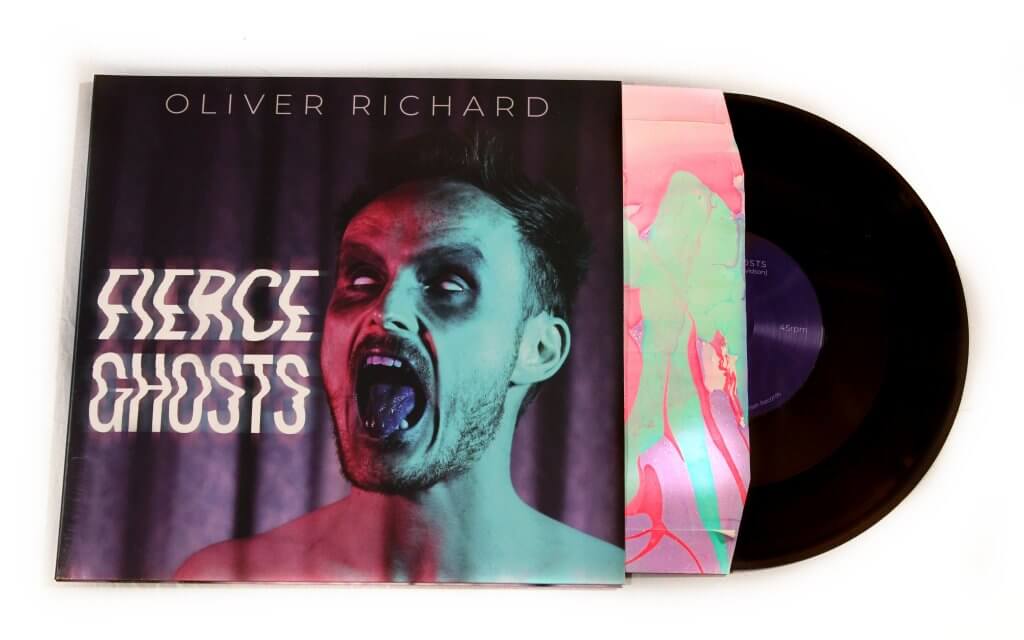 I am pleased to say the records for Fierce Ghosts have finally arrived. To celebrate, a new music video for the B-side shall premiere on YouTube this Saturday, 13th February, 19:00 GMT
I'm delighted with these 10″ records; the artwork looks even more striking in the flesh. There are only 102 copies so if you want one, best order sooner rather than later! Included as bonus items are handwritten lyric sheets, plus holographic logo stickers (limited to the first 40 orders). On top of this, I've personally marbled some inner sleeves. I planned to do more but I ran out of varnish. Therefore, the first 10 orders shall be marbled, but the rest shall be basic white inners! If you want to see how I achieved this effect, check out my social media this coming week.
To celebrate the completion of this release, a brand new video for the B-side remix shall premiere on YouTube this Saturday (13th of Feb) at 19:00 GMT. This video is a complete reworking of the A-side's original material, and is peppered with lots of up-till-now unseen footage of remixer Dr Creamy Lips. It is 7 minutes of utter madness. Be there and join in commentary as the video goes live!
And so, Fierce Ghosts rests in peace. A project that began in March 2020 now finishes almost a year later, and has undoubtedly become my most successful release so far. Thank you for being part of that. Without being able to play gigs for the forseeable future, it's unlikely I'll recoup the financial outlay for this, at least in the short term, but that being said, I never got into music to make money, it'll always be about the art.
Thank you for your support in whatever form it takes,
Much love
Oliver
P.S. see you at the premiere